Where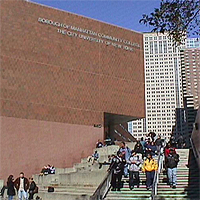 Borough of Manhattan Community College is a campus of the City University of New York. BMCC is a large (about 19,000 students), urban, community college with open admissions. Since we accept every applicant who has either a high school diploma or a GED, our students have a wide range of educational experience. Some are recent immigrants with strong educations, even advanced degrees, from their home countries and in their own languages. Others are recent high school graduates-and many of our students have never completed high school, but are returning to school after years of experience, working and raising families.
As part of the CUNY system, BMCC prepares students both for the workforce and to continue their educations both within and outside of CUNY. Our students' educational goals include acquiring practical real-world skills and knowledge they will need on the job, as well as more general academic dispositions that will serve them well as they continue their educations. This is the BMCC dilemma. How do we combine, in a 60-credit degree, all the skills that students need to succeed as child care teachers or nurses or bookkeepers with the academic preparation they will need to continue on to a masters degree level or beyond?
This dilemma sets the stage for our collaboration. Both of us have been working on scholarship of teaching and learning projects, through the Visible Knowledge Project and the Crossroads Online Institute. As we shared information about these VKP and COI projects, we realized that despite the differences in our disciplines, there were similarities in the questions we asked, what we were trying to accomplish with students and how we tried to do it.