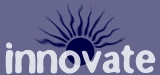 The February/March issue of Innovate Journal of Online Education just came out, and if you look carefully, you'll see a fascinating article by…me!
You do have to subscribe to read it, but it's completely free, and (in my opinion) well worth it. Not just for my article, either. I'm very proud to be there among the other contributors. Some excellent work, and I'm glad to be in such distinguished company.
Watch for an announcement of the live interactive sessions, too!