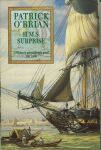 I've read all of the Patrick O'Brian Aubrey/Maturin novels, from number one (Master and Commander) to number twenty (Blue at the Mizzen) at least five times. The series (it's really one multi-volume work) is probably the best historical fiction I've ever read, and absolutely one of my favorite, most enjoyable reads of all time. I love the language, the stories, the characters, everything. Even though the series seemed to lose a bit of steam in the last couple of books, I was terribly sad when O'Brian died and we knew that there would be no more.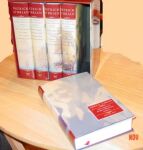 Although I love the Geoff Hunt covers on my paperback editions, they're getting a bit tattered and worn, from the multiple readings. And for a full hardcover set, the price runs into the hundreds of dollars. So I was enormously excited early last month when I saw that John Berg at Sea Room was going to be selling a new "Omnibus Edition" handsomely hardbound in a boxed set of five volumes, and that the fifth volume includes the small part of 21–the book O'Brian was working on, the little bit that was on his desk, when he died. I ordered it immediately (John Berg's price is fifty dollars less than anywhere else!), even though it wasn't going to be officially released until November 4. Yesterday it arrived! And the volumes are handsome indeed, with ribbon bookmarks in the binding, and a good size for reading on the subway or in bed.
I'm ecstatically plunging back into the "music-room in the Governor's House at Port Mahon, a tall, handsome, pillared octagon," and to the "triumphant first movement of Locatelli's C major," I'm preparing for an extended cruise aboard the HMS Surprise (and other vessels) in the Royal Navy of the Napoleonic wars.