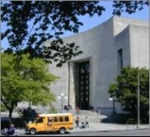 I took my daughter to the Central Branch of the Brooklyn Public Library today. It's always been one of my favorite libraries. I used to spend many hours there, and I've always loved it for many reasons–the shape (when viewed from above, it's an open book), the soaring wood-panelled central gallery, the tuna sandwiches in the upstairs cafeteria (sadly closed to the public now), the little squirrels on the entrance gates to the children's reading room, the way the light streams in through the windows on the park side in the afternoon. I've even memorized the motto engraved on the facade (to the right of the doors):
Here are enshrined the longings of great hearts, and noble things that rise above the tide; the magic word that wingéd wonder starts; the garnered wisdom that has never died.
I always thought that was pretty cool–but what's that word "things" doing in there? I've no idea who wrote it, and a google search comes up empty.
So today I found that not only is it the same wonderful library I spent so many hours enjoying while in graduate school, but they now offer free wireless broadband! Of course, when I was in graduate school, I had no laptop, and there was no internet (wireless, broadband, or anything at all) until just at the very end, but still–what a pleasant place to spend an afternoon.