About a month ago I finished up Peter Hamilton's enormous "Night's Dawn" trilogy (The Reality Dysfunction, The Neutronium Alchemist and The Naked God). Enormous is certainly accurate–but it's also, in this case, wonderful. He creates an entire, coherent, universe–a future history–with confidence and talent that I haven't seen in a long time. This is space opera as it should be, on the grandest scale, but with real characters and believable technology. Just excellent, and long enough to really sink my teeth and mind into. And, luckily, I bought all three two-volume works at the same time, and bought them in e-book format, so on my little Tungsten T I could read them comfortably on the train, plane or in bed. I was sorry, actually, that it all had to end, even after thousands and thousands of pages.

Now I've discovered that he's started a new trilogy (maybe not quite so long, this time) and I'm ecstatically starting out on Pandora's Star. It's just as good, but here's the problem…it's only the first book, and the next isn't due out until next year! That's a long time to wait, and from reading the first trilogy, I can really see that none of the single volumes provide any kind of ending at all. So I'm going to finish this and then have a long, long, wait…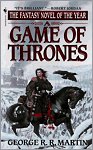 It's going to be a repeat of the George R.R. Martin "Song of Fire and Ice" fiasco…still waiting for A Feast for Crows, George! Just about the only fantasy I've liked in such a long time…and months and months go by without that promised next installment. Amazon is now promising June 24…but do I believe it? Does anybody? I should hope not!