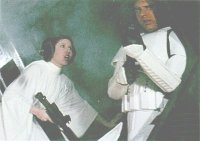 While I'm on a Star Wars theme, I had to include this perfect entry into the "shoe fits" and cosmic synchronicity files. If only the Bush administration had Leia Organa in the cabinet!
This is Princess Leia talking to Han Solo in Star Wars III: A New Hope, but it might as well be Princess Leia talking to George W. Bush in Iraq II: No Hope Whatsoever :
This is some rescue! When you came in here, did you have a plan for getting out?