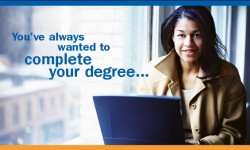 The CUNY Online Baccalaureate Degree is a program for degree completers, specifically and explicitly. Our research tells us that there are approximately 60,000 people in the New York area who left college without a degree, but with good academic standing, and between 60 and 90 credits successfully earned. For most of these students, their reasons for leaving school were not lack of interest or desire or motivation, and not academic problems (they were successful academically, up to the time they stopped). So why did they stop? The answer is pretty predictable, and CUNY's research (focus groups, surveys) confirms that prediction. The majority of these students became ex-students for logistical, practical, reasons. They needed to work more hours at their jobs, to support their families. Or they had children whose needs had to come first. Or older relatives who needed care. Their schedules changed, or they moved to a new apartment with a more lengthy commute to school or work. Another group of students (of undertermined size at this point) had physical disabilities which interfered with their ability to attend class. In all these cases (and others), these were people who wanted to finish their degrees, who would welcome the opportunity, but who were not able to attend regular, scheduled, face-to-face classroom sessions.
So the purpose of the OBD was to offer this specific audience, this specific group of students, the opportunity they wanted and needed to complete a degree they had already started. With that purpose, we decided early on that the program should be (to use my colleague's phrase) "flexible on the front end and tight on the back end." We wanted to take in students with the widest possible range of prior academic experiences–being as flexible as possible in accepting transfer credits from all kinds of programs. That would widen our pool of applicants, and help to prevent frustration for students who might feel like the credits they had already earned were "wasted" if they weren't accepted by the program.
But that wouldn't be enough to make a program we could feel proud of, or one that would really make a difference for our students. We didn't want to just hand out degrees as degrees, or just allow completion. We wanted to have a program with real academic rigor and intellectual quality, and more importantly, a program that could use the qualities and innovations of online education–not just for convenience, but also for their value and place in the emerging structures of education and knowledge and information in this culture.
That's the "tight on the back end" part, and that's what will give these degree completers a real degree, a new degree, not just a filling-in-the-blanks of their previous degrees. We decided (at least at the beginning) to offer only one "major," one concentration, and to move all students from their entrance with partial degrees in a variety of subjects and majors, to a complete degree in that concentration…Communication and Culture.
Students, in so many cases, see the bachelor's degree as a credential, a requirement for promotion or progress in a career. And that may be especially true for degree completers. The lack of a BA constructs a ceiling to their aspirations, and completing the BA is valuable to them because it will allow them to rise above that ceiling. That's quite understandable, and we certainly want to acknowledge that fact (and will even use it in the "marketing" of the program). But we're all educators, and all want something more than that for our students. They need the credential. They need the ticket to a better job. And they need the broader, deeper, value of education–not just for job training or professional advancement, but for all the value that a liberal education brings to a whole, growing, complete educated citizen. And that's what makes this a degree for completers, and makes that completion so desirable for the students, teachers, and society.