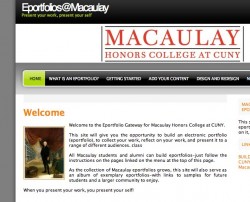 It took me longer than I wanted, but I finally managed to get the Macaulay Eportfolio site up and running. I'm very pleased with the initial installation–this is using WordPress Multi-User as an eportfolio platform, something that more and more people are starting to do. It was a long process to decide what would be best for Macaulay students–and I know there are many possible solutions to this kind of question. But WPMU offered several advantages for our needs. After some email exchanges and a visit with Jim Groom, I felt that the advantages really made it worth a try.
Those advantages, in brief:
Free and open source. It's always good to conserve resources, and it didn't sit well with me to shell out many thousands for a product that we might not stay with for very long, and that would then, by virtue of the money we spent, also own us–or at least hold a lien.
Easy to use and maintain with a small staff–and no full-time programmers. WordPress has a huge and helpful community, and I and the Tech Fellows have extensive experience with using it, changing it, fixing it, and extending it.
Easily customized (templates) look and feel. WordPress has so many themes, with such a variety of looks. Most of the "regular" eportfolio systems go too far in one direction or another. Either they're completely standardized with at most a little color change to express individuality, or they're wide open and thus very difficult for students to navigate the process of customizing their appearance. WordPress themes, which give a range of different attractive options, easily switched or re-switched, or even altered (or created from scratch) by more advanced students, seemed like a perfect compromise
A cabinet of curiosities/museum. This was kind of the controlling metaphor I wanted for the eportfolios, and WordPress really lends itself to that. For a while I was stuck on the repository idea (the box in the basement metaphor). I was really considering that the eportfolio system had to be a full-service system, with the area for "dumping" all the artifacts or content integrated with the system for reflecting on and presenting that content. But Jim Groom (in one of those should-have-been-obvious brilliant recommendations) unstuck me from that. The repositories are out there, easily available, and it's just not necessary (or even really advisable) for me to focus on providing them. With YouTube, flickr, Google Docs, voicethread, odeo, etc., why bother to focus so much on providing that "box"? As a cabinet of curiosities, or as a museum, it's possible to just pull all the content and rearrange it, to walk around or to sit with it, to show it to others in a guided tour, or to have private rooms, or members-only displays. The metaphor's not perfect, but it got me moving in the right direction, and I integrated it into the site description.
Easy to organize and reorganize. This one may need a little work with WordPress, but the idea is that the categories become the organizing tool. Like tagging, the categories can be post-facto, rather than predetermined, and there can be multiple (or adjustable) categories for any item. That's key I want integrative learning–seeing relationships between and among different learning activities, to be built-in to the eportfolio.
Reflection and interaction central. Once the repository is separate from the system, the posts become reflection and consideration…and even better, they also provide the interactive element through comments. If an eportfolio lives and grows, and encourages collaboration and development…well, that's what it's there for. And rare.
Those are the basics (apart from the ones I'm forgetting), and it remains to be seen how it all works out when (probably in the fall) students really start using the system.
One of the best things we have here at Macaulay is the Tech Fellows–so however it all begins to roll out, I've got them for support, and ideas, and development, too.
More updates as this develops!