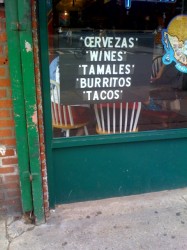 Even with ongoing health issues, I still enjoy everyday absurdities, which is why I'm a big fan of The "Blog" of "Unnecessary" Quotation Marks.
It's not a terribly mean grammar "gotcha" site. It's really just for fun, and many of the finds are quite hilarious.
So I sent in a photo of my own–a sign that I noticed right here in Brooklyn. And today it was posted! This is a measure of fame that I can handle–first name only, and just plain silliness!
(I saw another classic–the "all you can eat" pancake breakfast, over the weekend, but didn't snap a photo).